Legacy L1
Description
Purchase
Applications
| | |
| --- | --- |
| Column Diameter | 0.5 mm, 1 mm, 2.1 mm, 3.2 mm, 4.6 mm, 10 mm, 22 mm |
| Column Length | 10 mm, 25 mm, 50 mm, 100 mm, 150 mm, 250 mm, Guard |
| Particle Size | 5 µm |
| Pore Size | 100 A |
| Brand | SIELC Technologies |
The Legacy L1 column is a silica-based, single-mode reverse-phase C18 column that meets the USP qualifications for the L1 designation. The USP definition for L1 for a stationary phase requires octadecyl silane chemically bonded to porous silica or ceramic particles (1.5 to 10µm). Compounds are retained based on their hydrophobic interactions with the ligands.
If you would like to learn more about SIELC's line of Legacy columns, you can download the brochure here.
Below we have shared a select sample of methods showcasing the retention capabilities of the Legacy L1 column.
Prednisolone is an artificial corticosteroid that is used to treat many chronic ailments, such as colitis, multiple scelerosis, and arthritis. Figure 1 shows retention of Prednisolone on a Legacy L1 column with a mobile phase (MP) of 30% Acetonitrile (MeCN) and 70% water.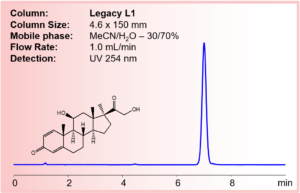 Epinephrine, or adrenaline, is a naturally-occurring corticosteroid. In the pharmaceutical industry, it is used to treat severe allergic reactions, heart attacks, and asthma. Figure 2 shows retention of Epinephrine on a Legacy L1 column with a mobile phase mostly consisting of methanol (MeOH) and water, with NaH2PO4, Sodium 1-Octanesulfonate, and EDTA as buffers.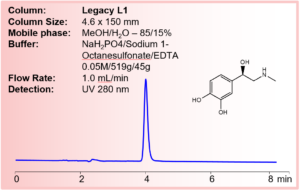 Ketoprofen is a nonsteroidal anti-inflammatory drug (NSAID) used frequently to help treat arthritis-related pain and gum inflammation caused by severe toothaches. Figure 3 shows retention of Ketoprofen on a Legacy L1 column with a mobile phase consisting of water and acetonitrile and a high concentration of monosodium phosphate (MSP, NaH2PO4).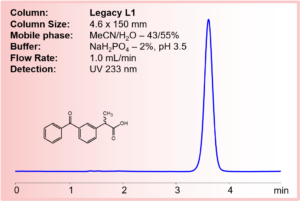 Amoxicillin is common antibacterial drug derived from penicillin. Figure 4 shows retention of Amoxicillin on a Legacy L1 column with a mobile phase consisting of methanol and mostly water with ammonium acetate as the buffer.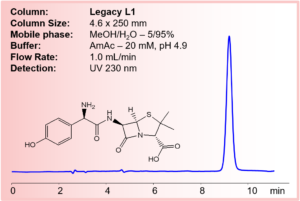 © SIELC Technologies. 2002 - 2023
Sign up to our newsletter
UP