Separation type: Bridge Ion Separation Technology, or BIST™ by SIELC Technologies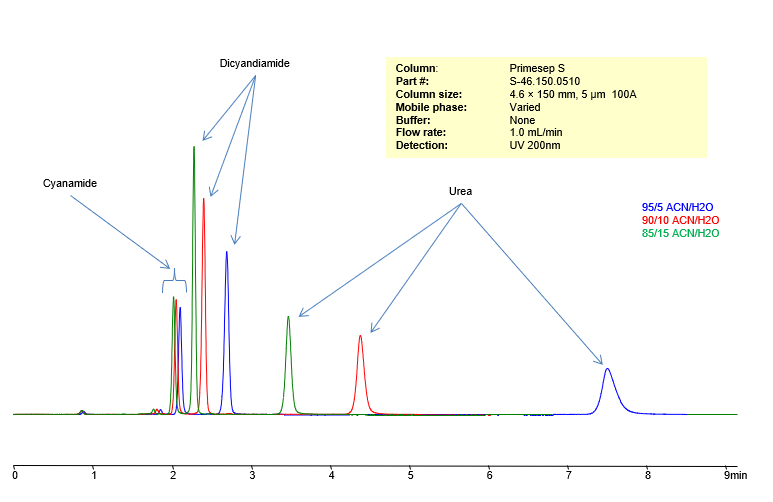 High Performance Liquid Chromatography (HPLC) Method for Analysis of Cyanamide, Dicyandiamide, Urea
Cyanamide (H2CN2) is a highly reactive and toxic compound used in the production of fertilizers, pharmaceuticals, and other chemicals. It can be used as a soil fumigant to control pests and weeds.
Dicyandiamide (C2H4N4) is a white crystalline solid that is often used as a slow-release fertilizer. It is also used in the production of pharmaceuticals, dyes, and resins. Dicyandiamide can also be used as a nitrification inhibitor in agriculture to reduce the loss of nitrogen from the soil.
Urea (CO(NH2)2) is a white crystalline solid that is widely used as a fertilizer due to its high nitrogen content. It is also used in the production of plastics, resins, and adhesives. Urea is also used in the manufacturing of animal feed, and as a raw material in the production of many industrial chemicals. In addition, it is also used as a component in certain skin creams and cosmetics due to its moisturizing properties.
Using a Primesep S normal-phase column and a mobile phase consisting of water and Acetonitrile (MeCN) with no buffer, Cyanamide, Dicyandiamide and Urea can be retained, separated, and analyzed. This analysis method can be UV detected at 200 nm.
Condition
Description
Application Column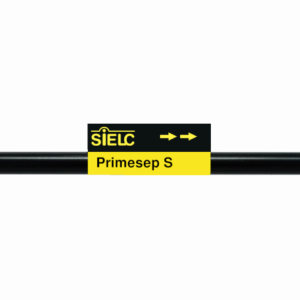 Application Analytes:
Cyanamide
Dicyandiamide
Urea
---
Application Detection:
UV Detection
SIELC Technologies usually develops more than one method for each compound. Therefore, this particular method may not be the best available method from our portfolio for your specific application. Before you decide to implement this method in your research, please send us an email to
research@sielc.com
so we can ensure you get optimal results for your compound/s of interest.