Promix SP
Description
Purchase
Applications
| | |
| --- | --- |
| Column Diameter | 0.5 mm, 1 mm, 2.1 mm, 3.2 mm, 4.6 mm, 10 mm, 22 mm |
| Column Length | 10 mm, 25 mm, 50 mm, 100 mm, 150 mm, 250 mm, Guard |
| Particle Size | 5 µm |
| Pore Size | 100 A |
| Brand | SIELC Technologies |
Promix SP is a stationary phase for small peptides under 1 kDa with a PI value below 6.0. This mixed-mode analytical column has negatively-charged acidic ion-pairing groups embedded within long ligand chains.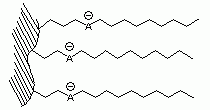 Reverse phase and ion-exchange mechanisms of interaction
Requires acidic mobile phase pH from 2 to 5.5
Recommended ionic modifier concentration of at least 20 mM
Available in 100Å pore size
No application examples found.
© SIELC Technologies. 2002 - 2023
Sign up to our newsletter
UP